Professional Lux Meter GOSSEN MAVOLUX 5032 C BASE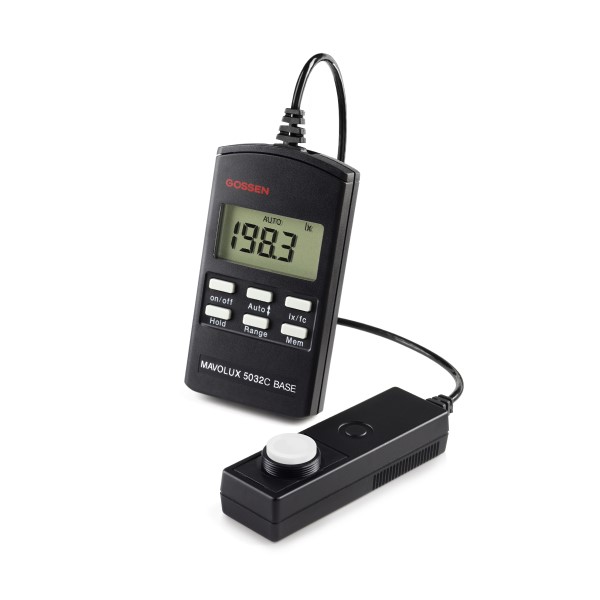 The GOSSEN MAVOLUX 5032 C BASE is a professional luxmeter with class C precision. This illuminance meter is mainly used as an industrial measuring instrument. Ideal for planning, installation, inspection and monitoring of lighting systems, as well as to ensure compliance with the specified lighting conditions.
This luxmeter for LED and lighting systems has four measuring ranges and allows you to choose automatic or manual range selection. They cover a wide range of 0.1 to 199,900 lx with an accuracy level of ± 3% ± 1 digit. The deviation from the vision curve to the human eye V (λ), which is equivalent to f1 '<7.5%, is considerably better than the limit of error allowed for the class C specified in the standards.
GOSSEN MAVOLUX 5032 C BASE PROFESSIONAL LUX METER FEATURES:
Maximum accuracy
Illuminance measuring according to Class C in lx or in fc according to DIN 5032-7, IEC 13032-1 Appendix B and ICD 69.
Precise measurements
The accuracy is ± 3% ± 1 digit of the reading.
Wide range of media
High initial sensitivity and resolution of 0.01 lx / 0.01 fc to illuminances of 199900 lx / 19990 fc.
Adjustment V(λ)
The spectral sensitivity of the silicon photodiode has color correction and is equivalent to the sensation of spectral luminosity of the human eye V (λ).
Cosine Correction
The luminosity of a flat surface is proportional to the cosine of the angle of incidence of the light.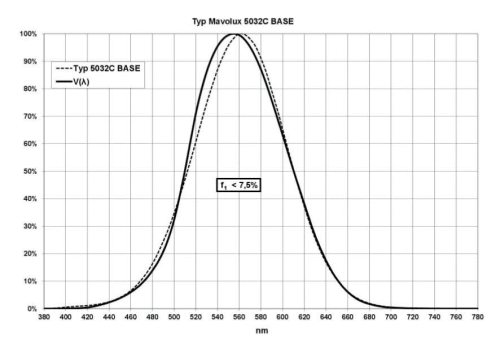 If you are interested in acquiring the GOSSEN MAVOLUX 5032 C BASE professional lux meter, do not hesitate to contact us.
If you have any questions, or want to request a quote, contact ASSELUM