Professional Luminance Meter GOSSEN MAVO-SPOT 2 USB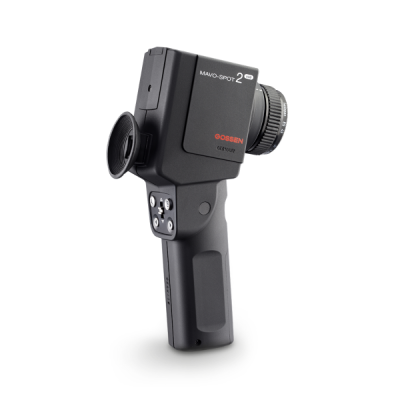 The GOSSEN MAVO-SPOT 2 USB is a professional high precision luminance meter. This luminance meter is designed for distance measurement with an acceptance angle of 1 °. It is assigned to class B in accordance with DIN 5032-7, appendix B of DIN EN 13032-1 and CIE 69. Measures the perceived brightness of backlit surfaces in candles per square meter (cd / m²) or foot-lamberts (fL ), in consideration of ambient light.
It is equipped with an excellent adaptation to the sensitivity of the spectral brightness of the human eye V (λ) and is highly accurate with a minimum deviation of only f1 '<3%, which is significantly better than what is specified in the standard.
By means of the mirror reflection optics, the measuring subject can be accurately directed in a 15 ° field of view and a 1 ° measuring circle clearly marked in the center of the viewfinder. The approach can be set for distances ranging from 1 meter to infinity. Shorter distances from 34 cm are possible using optional zoom lenses.
GOSSEN MAVO-SPOT 2 USB PROFESSIONAL LUMINANCE METER FEATURES:
Maximum accuracy
Luminance light point measurement adjusted to the standard with 1 ° angle of measurement in cd / m² or in fL according to Class B according to DIN 5032-7, IEC 13032-1 Appendix B and ICD 69.
Precise focus
The SLR viewfinder with 1 ° of measuring circle and 15 ° of visual field has been designed for distance measurement from 1 m to ∞, with the option of using the near accessory lenses for distances from 34 cm.
Contact measurement
The contact measurement works with an optional measuring head and adapter disc (optional accessories).
Wide range of media
High initial sensitivity and resolution of 0.01 cd / m² at 99900 cd / m² or 0.01 fL at 30,000 fL.
Comparative and relative measurement
For the calculation and direct display of the A / B contrast, the constant illumination (% A) and the control of the A-B divergences.
Adjustment V (λ)
The spectral sensitivity of the silicon photodiode has color correction and is equivalent to the sensation of spectral luminosity of the human eye V (λ).
Easy extension of functions
Measurement of illuminance adjusted to the norm in lx or in fc with the optional reflection standard.
For frequent and comfortable use
Easy to use with just one hand, comfortable, compact viewfinder display, ¼ "tripod thread, protected inside a high quality aluminum case.
Permanent memory
Para almacenar 1000 valores medidos ó 100 valores en grupos de 10, que podrán ser consultados y transferidos a un PC con el puerto USB integrado. 
Computer Aided Measurement
The operation of the meter is continued thanks to its power supply through the USB port.
The meter control as well as the recording, visualization and storage of the measured values is carried out with the supplied GLUX 2 software. EIZO RadiCS – The measuring device is integrated into the software for use in numerous controls and automatic adjustments of RadiForce monitors so that the display is constant and stable.
A small sample of the high precision of this professional luminance meter:
If you are interested in acquiring the GOSSEN MAVO-SPOT 2 USB professional luminance meter, do not hesitate to contact us.
If you have any questions, or want to request a quote, contact ASSELUM