Mirror Revolving Goniophotometer T5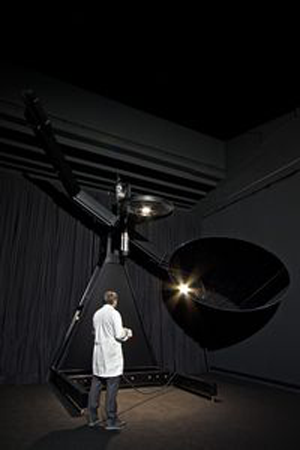 The Mirror Revolving Goniophotometer T5 is a high precision and reliability photometer for measuring the distribution of the luminous intensity of conventional and LED lamps and lighting devices.
The system is fully automatic and uses robot technology for movement allowing transmission without chains or belts.
The robot technology, alongside high precision encoders and latest generation no-play reducers, guarantees perfect positioning and imperceptible vibrations.
The T5 Goniophotometer allows measurement according to the following systems:
C-Gamma typical of interior and road luminaires (measurements according to CIE Recommendations 24 and 27)
V-H (B-Beta) typical of floodlights (measurements according to CIE Recommendation 43)
Measurement is also possible on conical surfaces.
Characteristics:
The T5 Goniophotometer is manufactured in accordance with the following Standards and Recommendations:
IESNA LM-75 Type C (complying IESNA LM-79)
EN 13032 Type 3.2
CIE 70 Chapter 7
Maximum dimensions of the luminaires to be measured:
Weight: kg 50
Diagonal: mm 2000
Depth: mm 1000
If you have any questions, or want to request a quote, contact ASSELUM