Spectroradiometer SPIC-200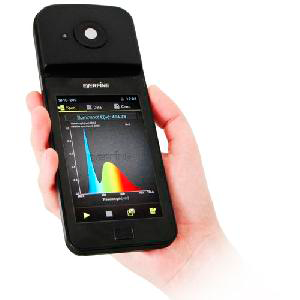 The SPIC-200, leading the new era for spectral field measurement. It has a compact size with a high-end configuration. Measurement and analysis can be completed with just one click. Its portability and versatile functions make it widely applied in field tests, such as buildings, highways, commercial lighting etc. In addition, it can be used in R & D workshops and in production lines for lighting products.
Measurement parameters:
Illuminance (Lux)
The Relative Spectral Power Distribution P(λ)
Spectral Irradiance E(λ)
Chromaticity in CIE 1931,1960,1976
Correlated Color Temperature(λ)(CCT)
Color Rendering Index Ra, Ri (i=1~15)
IES EVE Illuminance
Rf, Rg as per IES TM-30 (Option)
Main Characteristics:
No V(λ) mismatch error that the accuracy is super high.
Up to milliseconds for spectral acquisition and real time analysis and display.
Detachable detector for flexible applications.
SD card and WIFI application with phone and computer.
Further analyze the color rendering and S/P ratio of light sources
R9 is an important index for LEDs. The objects are perceived more colorful with the increase of R9.
If you have any questions, or want to request a quote, contact ASSELUM